Mind to appear on front of Leyton Orient FC's shirts thanks to donation from Harry Kane
Thursday, 14 May 2020 Mind
Mind are delighted to announce that our logo is to feature on the front of Leyton Orient FC's third kit for the 2020/21 EFL season thanks to a donation from England captain Harry Kane.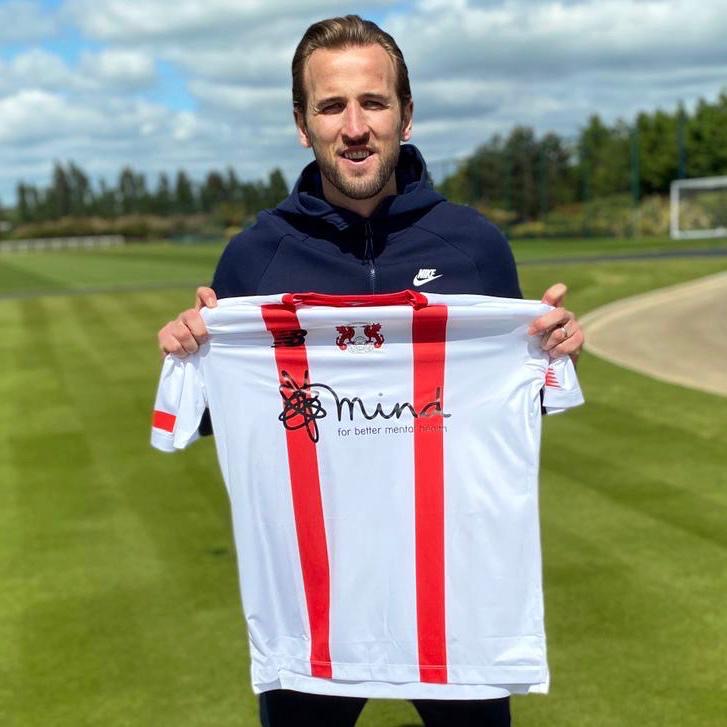 From the start of the 2020/21 EFL season, football fans will be able to see Mind's logo not only on the backs of Leyton Orient's shirt but also on the front. This is thanks to the generous support of England Captain, and former O's player, Harry Kane.
With approval given from the Premier League, FA and EFL, a first of its kind deal has been agreed in which three different charitable organisations will be featured as the front of shirt sponsors for Orient:
Third Shirt – Mind, the mental health charity
Away Shirt – Haven House Children's Hospice
Home Shirt – A thank you message to the frontline heroes
Alongside the considerable visibility the sponsorship will bring, Leyton Orient has also announced that 10% of proceeds of each shirt sale will be passed to the charities. Kane's donation will also allow Mind and the other charities to take advantage of the club's match day hospitality.
The announcement comes part-way through Mind's second season in partnership with the English Football League (EFL). The On Your Side partnership has already seen clubs, like Leyton Orient, in each of the three EFL leagues work with Mind to achieve the three main goals: to raise awareness of mental health, improve the approach to mental health in sport and raise funds to deliver life changing national and local support.
Kane, who joined Leyton Orient for a spell in 2011, has seen since seen his career go from strength to strength; from PFA Young Player of the Year, through to winning the Premier League Golden Boot for two years running. In 2017 he became Europe's top goal scorer, breaking a seven-year dominance of Messi and Ronaldo, and the next year he won the Golden Boot for England at the World Cup - only the second player to do so.
Harry Kane said:
"I was born and brought up only at a couple of miles from the stadium and I am really happy to have the opportunity to give back to the club that gave me my first professional start," said Harry Kane on the sponsorship.
"This also gives me a platform to be able to say a big thank you to the many frontline heroes and charities out there who provide care and support during these challenging times."
Paul Farmer, Chief Executive of Mind, said:
"We're tremendously grateful to Harry Kane for providing Mind with the opportunity to feature on the front of Leyton Orient's third kit during the 2020/21 EFL season.
"We know what an important platform football is for raising awareness around mental health, particularly at a time when more people than ever need Mind's support.
"For a mental health charity to have its logo featured prominently on not only the back but now front of an EFL club's shirt is a historic moment for us."
"It shows just how far we have come since a time when mental health was a taboo subject in society, not least among football fans."
"We would also like to thank Leyton Orient for choosing to donate a percentage of the proceeds from the replica kit sales to Mind at a time when our funds are challenged with all our shops being closed."
"This will help ensure that we can continue to be there for the one in four people who experience a mental health problem in any given year."
"We hope that the increased visibility the shirt sponsorship provides us with will reach thousands more fans and build on the work we are already doing through our partnership with the EFL."
Danny Macklin, Leyton Orient Chief Executive, said:
"Well where to start. What started with a simple idea has escalated into a very unique and emotive shirt sponsorship agreement."
"When we discussed with the England captain Harry Kane and his team at CK66, we all decided that we wanted this to be unique.
"We wanted to say thank you for the exceptional hard work and dedication of the frontline heroes during this pandemic and also bring attention to the other charities out there who have all suffering financial loss due to the pandemic.
"We are in uncertain and worrying times across the world but thanks to their efforts we will get through this together."
"Thank you, Harry, for your amazing support and generosity - you are a true role model for the modern game."
For more on Mind's work in football click here