A Channel 4 & Mind partnership
Monday, 08 May 2017 Kelsey Bennett
This week is Mental Health Awareness Week (8th to 12th May). Kelsey Bennett, a Continuity Announcer at Channel 4, talks about their partnership with Mind and the inspirational names behind their campaign. Tune in to Channel 4, More4 and E4 all week to hear some familiar voices!
Continuity Announcing. It's a rarely known job title but yet one you're probably more familiar with than you think. That is if you watch TV! Essentially, it's the people that talk in between the programmes and introduce you to the next show. And I am one of those rare creatures who you hear on Channel 4.
Lately, the Continuity Announcers at Channel 4 have been getting creative and turning our usual 'Next on Channel 4, it's Jon Snow with the news' into something a little different. Giving voices to the unheard causes. To the subjects that need attention. Channel 4 is the public broadcaster after all.
So, the next project to aim for was Mental Health Awareness Week (8th-14th May). It is a subject that is close to my heart. My struggles with anxiety and depression for the last few years have been a rough ride but I now claim ownership of this part of me, by writing about it. When the Channel 4 team were racking their brains, it seemed like the right fit for me.
"We thought…wouldn't it be cool to make a partnership with a mental health charity?"
And wouldn't it be cool if it was a weeklong takeover? And wouldn't it be really cool if we could get Stephen Fry involved..Set your sights high, you know! But what started as a possible pipe dream for our little team, ended up being a monumental task and a mammoth team effort.
It became a reality quicker than we thought. Mind were so keen to get on board and just like that, a pretty wonderful partnership between Channel 4 and Mind was born.
…And quicker than you can say, 'Can we get Stephen Fry involved', we were dashing across London, microphones in hand to meet and record the man himself. Making a terrible first impression, having run up and down the stairs several times to find a suitable place to record him, I was perspiring more than I would have liked but bless him…he shook our hands and laughed. He is a gentle giant and not surprisingly a one take wonder, openly sharing messages about his Bipolar Disorder and the struggle and shame that came with it. He ain't the Mind President for nothing!
Alastair Campbell came next. He is now a Mental Health Campaigner and writer…and oh boy…very charming. He was so eager to get on board with the project, a true Mind Ambassador. He also made me record him introducing the news 'Now, it's Jon Snow with the Channel 4 news. It's 7 o'clock.'……..he might be waiting a while to hear it on air I'm afraid.
Natascha McElhone was next. The Solaris, Californication & Designated Survivor Actress, she's up there with the Hollywood glamour. She turned out to be one of the most softly spoken, patient, calm, beautifully cheek boned woman I clapped eyes on. She gives the woman from the M&S ads a run for her money in the old 'sexy' voice stakes, but more importantly, she's a big supporter of Mind and raising awareness of mental Health.
Following McElhones' recording was Lady Leshurr. Was she an aristocratic lady of the manor or was she a killer female rapper with her sights set on world domination and millions of Youtube hits under her belt? That would be the latter. She had a message that was strong for the younger generation, talking about her own anxiety, and how it can affect so many.
Next through the doors, one that got the office talking for sure! Ex- football Coach, Alan Pardew. He had an important message to record. The mental health of his players was just as valuable as their physical health. I like it Alan…I like it.
While we're on the topic of Football, former professional footballer Clarke Carlisle came in. So very keen to get involved. I stuck my hand out to say 'hello'…he went in for the hug. 'We need to hug more. It's good for the soul'. Oh, yes it is. His story is an extremely humbling one. The man is doing good and trying to make positive from his past.
An Olympic Superstar walked on to the scene… Dame Kelly Holmes. I remember watching her win gold in Athens; one of the first cool females to aspire to for me. I didn't quite get myself out the blocks fast enough though. Her message was strong and clear- depression and self-harm can hit anyone of us. Be there to listen and support. Go on girl!
NEXT! Jamal Edwards MBE. This is a man who has made his millions, broke Ed Sheeran and countless of other stars, set up his own online TV Channel at the age of 15 and was just awarded an MBE and he's only just 26!!! He wants to shout the message loud and clear- especially for young men with Mental Health problems.
"Keep talking. Keep sharing. Keep listening."
Three names added to the mix, who were not of recognised fame…but discussing PTSD, recurring depression and anxiety. Their voices are heard loud and clear and through the mix of celebs involved.
Final day of recording involved an unlikely double act. Nicholas Pinnock. Mind Ambassador, the Top Boy and Hollywood Actor. And one handsome chap to say the least was joined swiftly after by Louie Spence …and turns out, they're old buddies from Drama School! Small world eh? Both show a very interesting side to themselves; it's not all glamour in the world of showbiz, there's more to them than meets the eye.
In at the final whistle, Olly Alexander, the front man of Years & Years. He's been open about his struggles with anxiety and depression; it makes me love him and his music even more. Shine bright boy!
Ruby Wax is still to be recorded as we go to press…yikes…but I can just feel it my bones that she's a woman we can rely on. This is a woman who has so passionately campaigned for a better understanding of mental health and a lady I'm sure who has a few pearls of wisdom up her sleeve to share. Share them Ruby, we need you.
So, if you're watching Channel 4, More4 or E4 this week (8th-12th May) listen out for a few familiar voices introducing the shows…and watch out for one very beautiful Mind logo. It's clear and visible all week….just as mental health should be.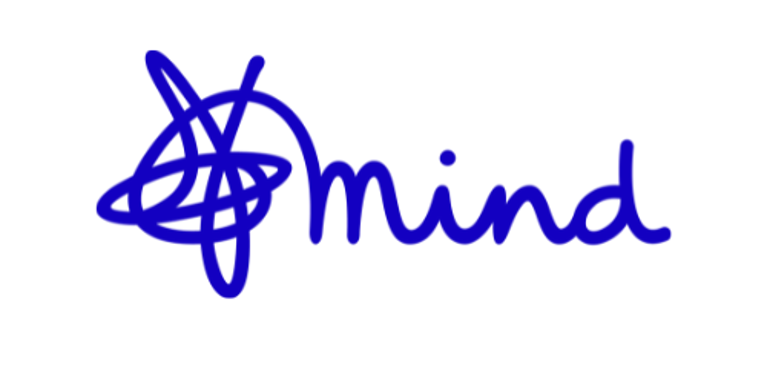 Our campaigns
We'll fight your corner. We believe everyone with a mental health problem should be able to access excellent care and services. We also believe you should be treated fairly, positively and with respect.
Share your story with others
Blogs and stories can show that people with mental health problems are cared about, understood and listened to. We can use it to challenge the status quo and change attitudes.