Tickets for The Mind Series go on sale for Arsenal, Chelsea & Tottenham Hotspur fans
Tuesday, 13 July 2021 Mind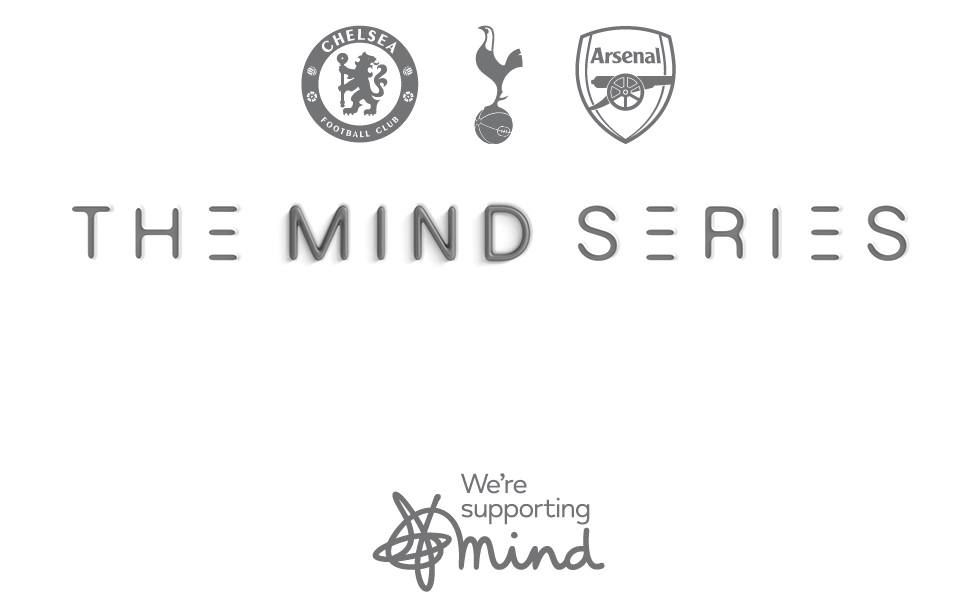 Tickets for The Mind Series go on sale this week for fans of Arsenal, Chelsea and Tottenham Hotspur football clubs.
The three Premier League teams are taking each other on in a first-of-its-kind series of pre-season friendlies in August, as a curtain-raiser to the 2021-22 season.
The schedule of friendly matches played will be as follows:
Arsenal v Chelsea: Sunday 1st August, Emirates Stadium, 15:00 KO
Chelsea v Tottenham Hotspur: Wednesday 4th August, Stamford Bridge, 19:45 KO
Tottenham Hotspur v Arsenal: Sunday 8th August, Tottenham Hotspur Stadium, 14:00 KO
Arsenal, Chelsea and Tottenham are uniting with Mind to raise vital funds and use their joint global reach and platforms to promote mental health awareness at a time when more people than ever need Mind's support. Funds raised from the series will be split between Mind and the respective club Foundations that each deliver projects to support mental health and wellbeing in communities.
The Mind Series builds on work already being undertaken by local Minds and the clubs, serving communities across London with projects including:
Hammersmith, Fulham, Ealing and Hounslow Mind and Chelsea FC
Chelsea Champions is Hammersmith, Fulham, Ealing and Hounslow Mind's latest project with the Chelsea Foundation. Launched during Mental Health Awareness Week, it provides extra-curricular activities and workshops to help schools raise awareness of mental health issues for pupils and parents.
This is one of a broad range of prevention and recovery services that Hammersmith, Fulham, Ealing and Hounslow Mind delivers to ensure everyone gets the support and respect they need to stay well. To find out more about their work with partners across Chelsea, the NHS, in schools, the workplace, and the wider community visit hfehmind.org.uk
Islington Mind and Arsenal FC
Islington Mind was set-up in 1985 to safeguard, promote and protect the mental health of the people of Islington. They offer a range of services including daily drop-in sessions, creative activities such as yoga and creative writing, peer support groups, therapies and tailored one-to-one support.
The charity also provides unique, specialist services, such as Outcome, which provides a safe sanctuary for LGBTQ+ people to get support for their mental health. To find out more about the services Islington Mind provides see islingtonmind.org.uk
Mind in Haringey and Tottenham Hotspur FC
The Mind Series builds on work already being undertaken by the Clubs and their local Minds, including. Mind in Haringey has a long-standing relationship with the Foundation, having previously delivered Mental Health First Aid training to staff, and with additional projects planned for later in the year. Mind in Haringey began in 1974 and provides information, advice and support to people affected by mental health problems, primarily in Haringey.
The charity runs a wide variety of services including the Ex-Services Project for veterans, a low-cost counselling service, Safe Haven: a support service for people experiencing a mental health crisis, as well as the Black Expression Project: a peer-support service for young black men. To find out more about the services Mind in Haringey provides see mindinharingey.org.uk
Sport